September 5. 011:015 AM IST
Agro News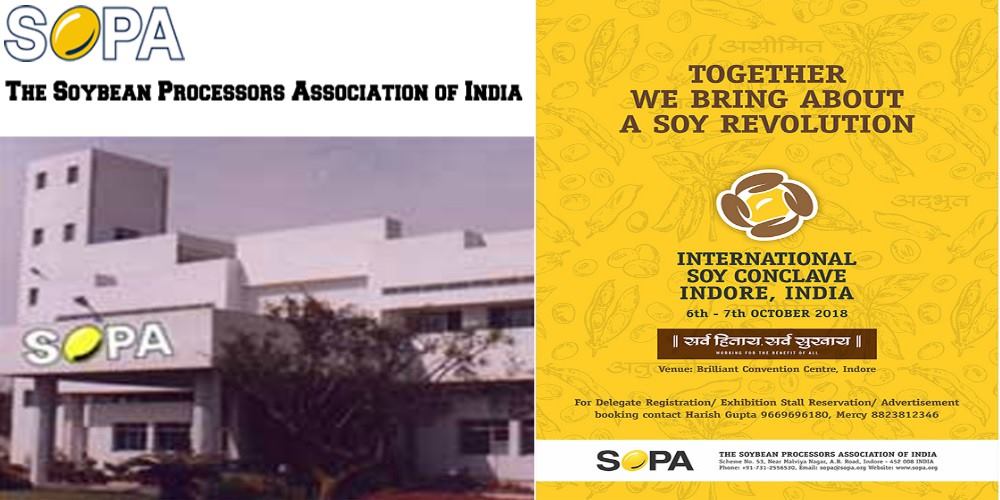 Trade body puts soyabean supply at 104 lakh tonnes
---
The Soybean Processors Association of India (SOPA) has, in its first quarterly estimates, put the total supply of the bean at 104.49 lakh tonnes (lt) for the oil year 2017-18, with estimated carryover stocks of 3.99 lt.

The Soybean Processors Association of India, popularly known as SOPA, is the only national level body representing the soybean processors, farmers, exporters and brokers in India working towards the aim to strengthen soybeans as a viable crop.
The main objective of SOPA is to encourage the development and promotion of Soy-Based products in the interest of the farmers as well as the processors.
SOPA was established in 1979 with its headquarters at Indore in the state of Madhya Pradesh, the main soybean-growing region of India. SOPA is represented on all the important committees, Govt. Bodies, Export Promotion Departments and on various Ministerial advisory committees like Commerce, Foreign Trade, Agriculture, and Foods etc.
SOPA's headquarters has been set up on a spacious 4-acre area. The association has a well-equipped office, conference hall, boardroom, and analytical and research laboratory. There are 115 Processing units in India processing Soybean with modern processing technology. The technological excellence of the Soya processing units has earned a very good name for the Indian Soybean Meal in the international market.
About SOPA Activities:
Agriculture:
SOPA has established a linkage with farmers of India in promoting application of scientific package & practices for Soybean development. Through its contract-farming programme it provides quality certified seeds to the farmers under its Soybean Development Programme. SOPA also provides extension material for supporting the soybean development throughout the country. SOPA also organizes intensive training programmes & demonstrations for the farmers as well as for the Agriculture graduates.
Research & Development:
The R&D center at SOPA exercises strict control over quality standards of soybean & Soya products from the farmers field to the export point. The laboratory is well equipped & managed by qualified research personnel.
Export Promotion:
SOPA provides latest information on current prices & reports from international & national markets. Additionally, crop reviews on important soybean growing countries are available for the benefit of the members.
SOPA also sponsors Trade delegations to promote export of Soy Meal & Soy based products to countries which are potential markets. It also invites delegations of importers to provide an interactive platform to the members & the buyers to discuss business prospects.
Data Dissemination:
SOPA brings out a monthly journal SOPA DIGEST. It gives information on latest happenings, researches, Agri news, technical news, health news, future aspects, economical review etc on Soy industry. It also includes Government notifications & statistical information related to area under soybean cultivation, rainfall, crop production, soy oil production & export of soy meal in our country.
Seminars & Workshops:
SOPA organizes Workshops & Seminars on quality control, export trade policy changes, technological up gradation, export promotion etc to enable its members to remain consistentntly competitive with the changing working environment.
Arbitration:
SOPA settles disputes, which arise between two parties related to soy trade. SOPA has got its own panel of arbitrators who are people with knowledge & experience of the soy industry. The cases are registered with SOPA & dates are fixed for hearing as & when possible. The arbitrator decides the cases on the basis of written submissions & presentation at the time of hearing.
Quality Control:
SOPA also focusses on Quality Standardization of Indian Soybean Products marketed both in domestic and International markets to ensure reliable consistent and uniform Quality and create brand equity in both the markets.
Address:
The Soybean Processors Association of India (SOPA)
Scheme No. 54, Malviya Nagar, Opposite Barfani Dham, MR 9 Rd,
Indore,Madhya Pradesh 452008,India
---
Tags